Photo of  2012  APWS Directors & Associates Present at the 2011 Convention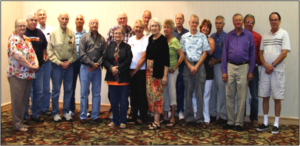 L to R Back Row: Bernie Jager, Nat Mizzoni, Gene Leffelman,
Don Steurer, Jim Bleuer, Jan Trader, E.T. Trader,  Don Butler, and Dann Dunst
L to R Front Row:  Joy Edwards, Doug Edwards, Jim Gollnick, Jeanne Hawkins, Mary Popple,
Terry Smith,  LaDonna Lickteig, Bill Branch, and Al Novosad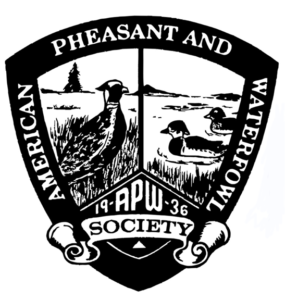 Intent and purpose of the American Pheasant & Waterfowl Society
To promote the rights and interest of the members to keep and rear pheasants, waterfowl, and other upland aquatic and ornamental birds.
To collect and distribute pertinent and scientific data and information relating to keeping and rearing of pheasants, waterfowl, and other upland aquatic and ornamental birds by means of its magazine.
The corporation advocates and encourages public appreciation and understanding of wildlife conservation and promotes the breeding of endangered upland game bird and waterfowl species in their pure forms. These topics are discussed in the magazine and at the annual conventions.
To promote and encourage cooperation between members, other aviculturists, government officials-agencies, and zoos throughout the world in regard to the propagation, management and conservation of rare and endangered species.
To promote the conservation of rare and endangered species by actively participating in international efforts to protect and preserve wild habitats and animal populations, as well as captive propagation programs.
To advance public education on the need for wildlife conservation and protection, and to assume leadership in the captive propagation of rare and endangered animal species.
While the American Pheasant and Waterfowl Society begrudges no one his right to keep mutations and hybrids and listing them on the species list or in the classified ads, this should not be perceived as an endorsement thereof by APWS, which is not consistent with the interpretation of the Society's mission.
The views expressed in the APWS magazine are for information only and do not necessarily constitute the policy of the directors or members.